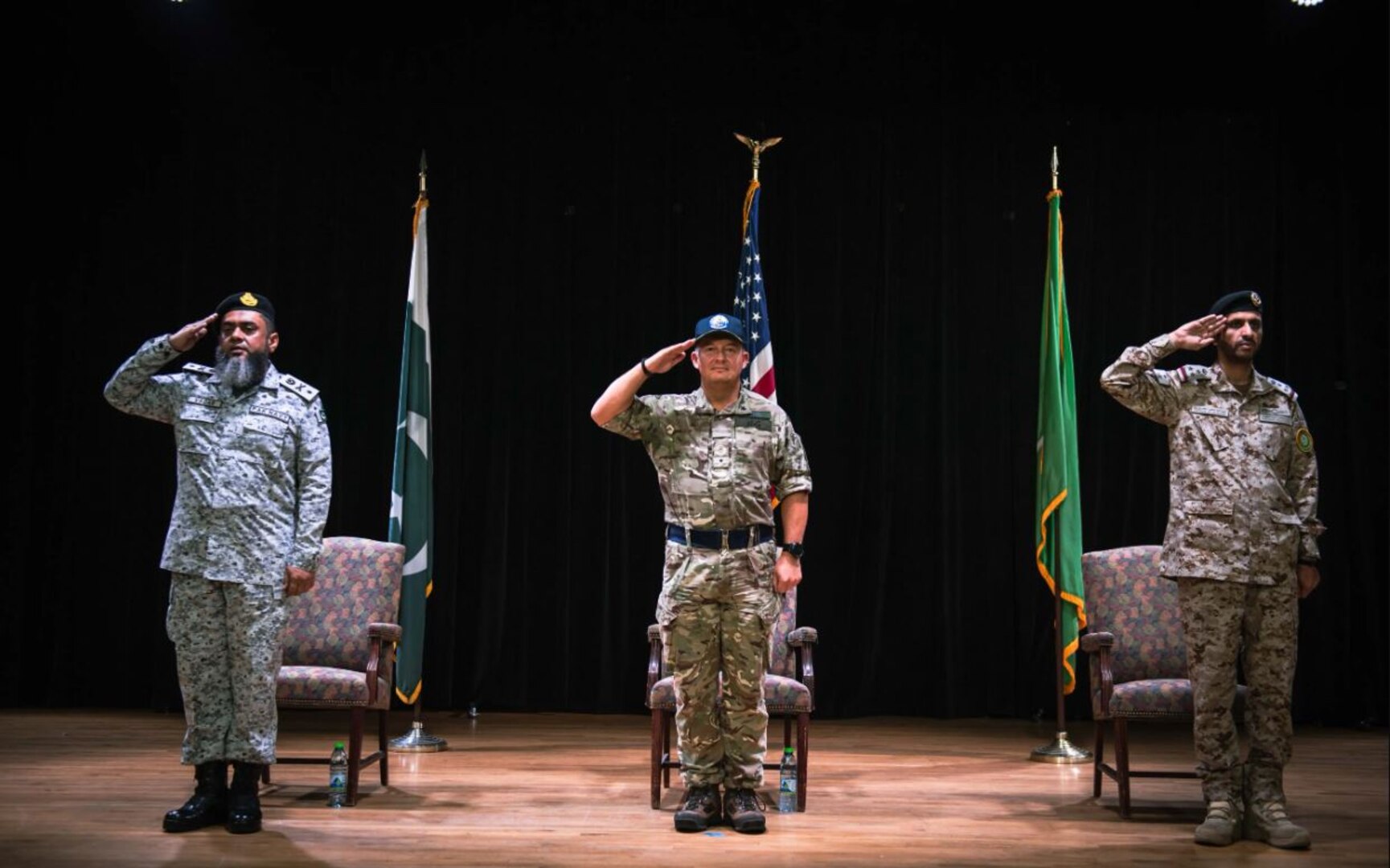 Task Force 150 Holds Change of Command > US Central Command > News Article View
Manama, Bahrain –

Pakistan handed over command of a multinational naval task force in the Middle East to Saudi Arabia in a morning ceremony at the US Navy base in Manama, Bahrain on July 21.


Royal Saudi Navy Commodore Abdullah Al-Mutairi has assumed command of Combined Task Force (CTF) 150 from Pakistan Navy Commodore Vaqar Muhammad. Established in 2002, CTF 150 is one of four task forces of the Combined Maritime Forces, the largest international naval partnership in the world.
CTF 150 conducts maritime security operations in the Gulf of Oman and the North Arabian Sea to help ensure the free flow of commerce.
"Working in this unique multinational naval partnership has been professionally rewarding and an enjoyable experience for me and my team," Vaqar said. "I express my deepest gratitude to the nations that spared their assets and gave their full support during the command tenure to make it a success."
Vaqar had been the commander of CTF 150 since January and led a multinational staff responsible for seizures of illicit cargo in regional waters. This year, the task force has so far banned illegal drugs with an estimated street value of $200 million in the United States.
Al-Mutairi served in the Royal Saudi Navy for 27 years and was most recently Deputy Director of Operations for Saudi Arabia's Western Fleet.
"It's a great opportunity to work and represent my country with such a professional and enthusiastic team," Al-Mutairi said. "My team will continue to strengthen our relationships with our maritime partners, advance our interoperability, and provide a robust security presence in some of the world's most challenging and important international waters."
This is the third time that Saudi Arabia has topped the CTF 150.
The Combined Maritime Forces comprises 34 member nations and is headquartered in Bahrain along with U.S. Naval Forces Central Command and the U.S. 5th Fleet.